Fool Moon (Dresden Files, Book 2) by Jim Butcher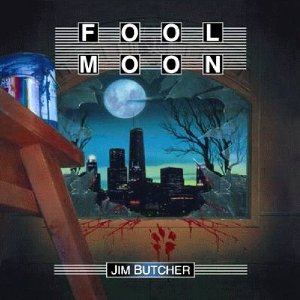 Fool Moon by Jim Butcher (Dresden Files, Book 2)
Available from Audible.com
Author: Jim Butcher
Reader: James Marsters
Short Review: Harry Dresden, Wizard of Chicago, gets pulled into a murder investigation riddled with werewolves and betrayal. Marsters remains the perfect reader to bring the Dresden Files to life.
Long Review: The second installment in the Dresden Files is perhaps stronger than the first.  In this  all our enemies have either claws or guns. Not satisfied with simply one bad guy, Butcher has thrown a whole arsenal of people and creatures to complicate Harry's life. Not just werewolves, but multiple kinds. Not just the cops of Special Investigations are not on his side, but the FBI is in town. Gangs not enough for you? Never fear, we have the Mafia too!
Can you read this without having read the first book in the series, Storm Front? I suppose so, but you will have more fun with it if you start at the beginning and meet everyone along the way.
In this book we also get a bit more background on Harry and the world he lives in. We learn a few Wizard secrets and get to know his allies a bit better. Butcher's characters are not cardboard cutouts – even those just passing through get enough detail to make them feel real. To top it off, Marsters has all the right voices for this wild assortment of characters. Most importantly, his voice for Harry, both his speaking voice and the one inside his head, is just perfect. He makes it sound so easy, so natural.
I don't want to spoil any of the story for you, so from here I just say – go listen!
You can listen to the first chapter for free.

3 Comments