Smarter Branding Without Breaking the Bank by Brenda Bence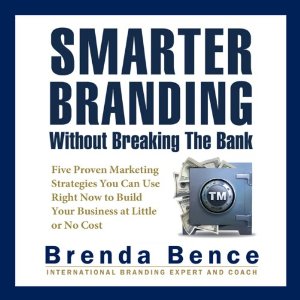 Smarter Branding Without Breaking The Bank
Available from Audible through Amazon.com
Author: Brenda Bence
Reader: Brenda Bence
Short Review: Speaking to "solo-preneurs" and SMEs (small and medium sized enterprises), this book gives clear direction on how to market and brand your company for no-cost or low-cost.
Long Review: As her own website states, "Brenda Bence is a renowned international branding and leadership expert who shows both individuals and companies how to achieve greater success through corporate and personal branding." If you want proof, listen to this book. This book holds your hand and walks you through many steps toward building your own marketing and promotional Brand. It becomes clear very early in the book that your intention and focus impact how you are received in the marketplace.
You need to have a Brand Positioning Statement. What is that? Jump on into this book, where Ms. Bence will easily explain it, with ample discussions and examples along the way. Once you have your Brand Positioning Statement, she leads you through understanding how to leverage your assets and differences into building a more successful business. Whether you are a direct sales person, a one-person company, a manager/owner, or the director of operations, you WILL benefit from this book. You won't need extra time, you can re-apportion your time. You won't need a big marketing budget, you can use approaches and ideas in Smarter Branding to build attention and respect for your products and services right away.
I want to give this book 5 stars, because it is great to have and refer to again and again. I had one problem with listening to it, however. The audio levels in this release vary so greatly, that it disturbed the listening experience. So, you are forewarned here: Crank it up loud while the softly-spoken Bence is speaking, and turn it down to half volume when the musical interlude pipes in between chapters.