Game of Thrones: A Song of Ice and Fire by George R. R. Martin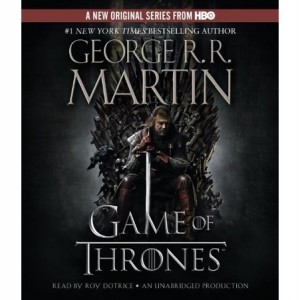 A Game of Thrones: A Song of Ice and Fire: Book One
Author: George R. R. Martin
Reader: Roy Dotrice
Short Review: Martin's Locus-Award winning novel, expertly read by Roy Dotrice, proves an engrossing opening to a long, unfinished series.
Long Review: I was initially hesitant to pick up this series because I had heard so many friends complain that Martin was slow to release subsequent novels in the series. I didn't want to wind up invested in characters who might or might not have resolutions in future releases. HBO's sneaky free preview weekend forced my hand, because seeing the opening episode of their adaptation of the story made me want to read the books before watching the TV show.
Martin's books are long and intricate, and follow dozens of characters. I generally enjoy fantasy audiobooks because the novels themselves tend towards the narrative, mythic style I think is best read aloud. This series is a great example of that. I was immediately entranced by Dotrice's narration. He developed different accents and styles for the varied characters, and his acting talent shines through in his reading. In many sections of the book where Martin's wordiness might have annoyed me, Dotrice's reading kept me interested. Were it not for Dotrice, I may not be so inclined to finish the series. Instead, I'm crossing my fingers that Martin writes fast enough to allow Dotrice to finish narrating all of the books before health problems make that impossible. I want Dotrice to read the paper to me. I love to listen to him.
Martin's writing does suffer at times from overuse of certain tropes or words, but in general he knows how to write an engrossing, interesting tale. He makes sure none of his characters are true heroes or true villains, and he's not shy about killing off lead characters. The story is largely medieval-styled fantasy, but Martin injects mysticism, the undead, magic, and some elements of classic mystery novels to refresh the genre. One of the most prevalent themes in the books is the odd progress of seasons in Martin's world. Rather than living on a planet with four seasons in a year, Martin's characters inhabit a world where seasons can last many years. The story opens as signs of waning summer are appearing, and the phrase "Winter is coming" becomes a regular refrain. As the novel progresses, many factions fight for the throne of Westeros, and the third-person narrative switches from one character's experiences to another.
There is no shortage of specifics about the plot available online, so I'll leave it to you to seek out as many or as few spoilers as you like. Just know that the corpses pile up and several of the characters are truly layered and intriguing. Martin might have benefited from more editing, but Dotrice's reading makes the book is a great listen.

3 Comments