Broken Harbor by Tana French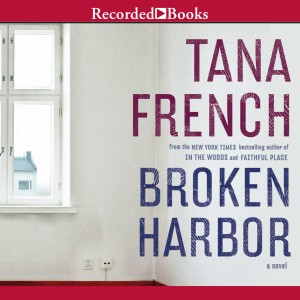 Broken Harbor
Author: Tana French
Reader: Stephen Hogan
Short Review: The fourth book in French's excellent Dublin Murder Squad series, read by the talented Stephen Hogan. Previous books in the series include In the Woods and The Likeness. They can be read out of order without spoiling the series.
Long Review: Each book in French's series follows a different detective. Mick "Scorcher" Kennedy is lead detective in this novel, and he's as tortured as his predecessors. He appeared in the third book in the series as a supporting character and seemed like a complete ass. Here, we get more of a sense of who he is and why. French loves to incorporate intricate psychological matter into her books, and she reaches a new high this time around. The case Kennedy works is centered in Broken Harbor, a broken down vacation community turned failed exurban development near Dublin. Kennedy's family used to vacation there, and it holds a number of painful memories for him. As the case progresses, Kennedy also ends up caring for his mentally-ill sister Dinah. As their family history emerges, the setting and circumstances of Kennedy's case seem particularly poignant.
Kennedy is investigating the murders of most of the Spain family–only the mother survives, and she is comatose when Kennedy gets the case. He's training a new detective, Ritchie, and dispenses as much cop wisdom as he can think of as they work. The case itself is baffling, the department is a mess, as ever, and it seems like French made all of the knots too fast to untie for a while. I'll say no more about the plot. I loved the book and the others in the series: In the Woods and The Likeness.
Hogan is a particularly good reader. He does a great job with a variety of different Irish accents, slipping from working class north Dublin to broad country to posh and back again. His pacing and diction are excellent. I'll seek out other books he narrates.