Nice to Come Home To by Rebecca Flowers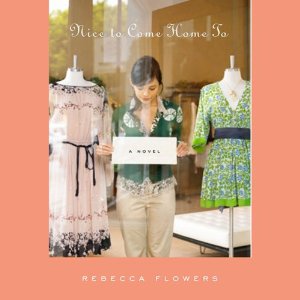 Nice To Come Home To
Author: Rebecca Flowers
Reader: Carrington MacDuffie
Short Review: A sweet first novel brought to life by an excellent reader. We meet Prudence Whistler as her life starts to fall apart – but it is easy to find joy in her self-discovery. Romantic and charming, a lovely 'comfort' book for a rainy day.
Long Review: I didn't like Prudence (Pru to her loved ones) for fully the first quarter of the book. She was whiny, judgmental, and set in her ways. Lucky for me, I enjoyed the reader enough to stick with it and see where Flowers was headed. Somewhere before the middle of the book we start to see the real Pru. As her tidy world falls apart, it becomes clear that the version of Pru that we had been introduced to was some ideal proper version of herself. Pru as she thought she was supposed to be.
Pru finds her way the way most real people do – through some mixture of determination, despair, luck and a growing willingness to try a new path. I enjoyed the supporting cast of the story. Often I am puzzled by stories in which our protagonist seems to have only one or two friends. It always makes them seem to be living a very flat life.
I marked this as a romance, but I mean that in a classic fiction sort of way. You will figure out who she is meant to be with fairly early on, but the fun is in the journey. There is a lot of loving and supporting of loved ones in this story – lots of being patient as they struggle to determine what to do next, hoping that they don't make you crazy before they figure it out.
MacDuffie does a lovely job with the reading. I think it a great compliment to a reader to say that he or she faded into the background. The voices were distinct enough and the overall narration clean and clear. I would cheerfully listen to other books listing MacDuffie as the reader.
I place this firmly in the 'comfort book' category. I hope you enjoy it as much as I did.