Skinny Dip by Carl Hiaasen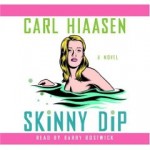 Skinny Dip
Author: Carl Hiaasen
Reader: Stephen Hoye
Short Review: An engaging, funny, environmental crime novel set in the Florida Everglades. Hiaasen is a gem, and Hoye is good but doesn't shine quite as brightly.
Long Review: As the book opens, Hiaasen has us witness an attempted murder at sea. The beautiful young Joey Perrone is thrown overboard by her husband Chaz. In the water, Joey reminisces over just how useless her murdering husband is as she struggles to stay alive. Retired cop Mick Stranahan rescues Joey the next morning, and hilarity ensues. Hiaasen draws a number of memorable likeable (or dislikeable) characters and sketches some extras to fill out the plot. Chaz is truly distasteful; Joey, Mick, and Karl Rolvaag are truly likable.
I won't reveal any more about the plot. Hiaasen's books are as enjoyable as they are because he plays with plot and language so effectively, and I'd hate to diminish any of that fun for a reader. Suffice it to say that Hiaasen keeps it fun and maintains quick pacing throughout the story.
I always hesitate to criticize audiobook narrators–it's a hard job, and one I don't have any direct experience with. But I do criticize, because I know that a reader whose work puts me off will put me off of an audiobook entirely. There are readers I cannot bear to listen to and readers I absolutely love, and the differences in their styles aren't always noticeable to other listeners. In this instance, I found Hoye's narration too affected at the beginning of the book. Thankfully, his reading grew on me as he relaxed into the role, and by the end, I was comfortable with his style. Skipping back to the beginning to work on this review reawoke my misgivings, though, so it seemed worth mentioning.