The Like Switch: An Ex-FBI Agent's Guide to Influencing, Attracting, and Winning People Over by Jack Schafer, PhD and Marvin Karlins, PhD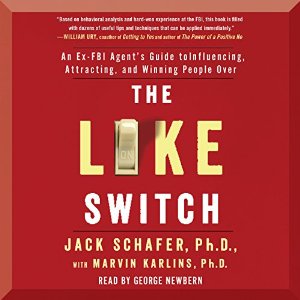 The Like Switch: An Ex-FBI Agent's Guide to Influencing, Attracting, and Winning People Over
Available from Audible through Amazon.com
Authors: Jack Schafer, Ph.D. and Marvin Karlins, Ph.D.
Reader: George Newbern
Short Review: A beginner's course in verbal and non-verbal communication with others to instill trust and likability, with some entertaining and unbelievable personal stories.
Long Review: Dr. Schafer begins drawing you into his book with stories from his work in counter-intelligence, which sound like they should be a book in and of themselves. Every time the stories catch your interest, he switches back to the lesson at hand. With his knowledge of behavioural analysis he gives the most basic tips on etiquette and friendliness. Whether he's telling you how to make small talk to engage the other person (spoiler: you LISTEN instead of talk) or having you practice facial expressions to appear more approachable (don't scrunch your eyebrows or frown), there are a great many things in this book that are no secret. The narrator does a good job of relaying the book in an expert fashion, so that you may not even realize he's not an author.
What makes this book the one you want on your mp3 player is: He ties all these little actions together. With some conscious thought about how you're portraying yourself, you're sure to notice an uptick in your ability to "win people over". I remain a bit incredulous that he's sharing *everything* he can with us, however. How can these simple techniques used over a long period of time help to turn an intelligence operative into a double agent? He shares stories with us of these techniques at work, but I must admit I find some of it too "easy" to believe. Is this a detriment to this book? Not at all, because it has the listener thinking even more about what he has been saying while anxious to test out new expressions and responses.
While the audiobook influenced me and won *ME* over, I'm not changing any alliances any time soon… especially being "hip" to the techniques now.

One Comment