The Little Stranger by Sarah Waters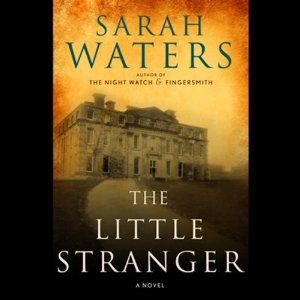 The Little Stranger
Author: Sarah Waters
Reader: Simon Vance
Short Review: An intriguing, unusual gothic novel set in post-war England, read beautifully by Simon Vance. It's intriguing and gorgeously written, and it asks more questions than it answers.
Long Review: With this novel, Waters takes a step away from her usual focus on sexuality and instead plays with questions of psychology, unreliable narrators, class, and mystery. The resulting novel is intriguing, but some readers may be frustrated by the lack of a clear resolution to the story.
The story opens as a country doctor pays a house call to the ailing maid in a crumbling estate house called Hundreds. Dr. Faraday insinuates himself into the daily life of the Ayers family, owners of Hundreds. He befriends eldest daughter Caroline Ayers, endears himself to Mrs. Ayers, and offers experimental treatments to Roderick, injured war veteran and only son. As the book progresses, Faraday's presence begins to trouble Caroline and Roderick, and the reader begins to question Faraday's motives.
Simon Vance is an excellent reader. His pacing is wonderful, his diction is clear, and his differentiation between characters is clear and easy to follow. Dr. Faraday is the speaker of the book, and Vance doesn't make it clear whether or not we should trust the doctor. I love that Vance didn't steer the listened towards one view or another in this novel. As some of the residents of Hundreds begin to believe the house is haunted, Vance doesn't push us towards believing in the ghost or deciding that the supposed haunting is really a devious plot or a strange psychosis. He allows the mysterious to remain just that.