Rose Under Fire by Elizabeth Wein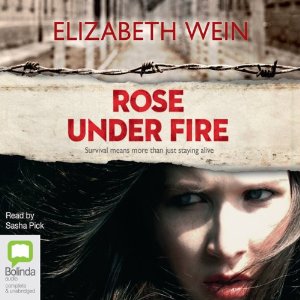 Rose Under Fire
Author: Elizabeth Wein

Reader: Sasha Pick
Available from Audible.com
Short Review: Elizabeth Wein continues the heart wrenching legacy begun by Codename: Verity. This is the story of Rose Justice, an American ATA pilot, who gets captured in by Nazis and is thrown into Ravensbrück concentration camp. What follows is a brutal story of trying to find hope in a hopeless situation. Wein delivers a book that will leave you emotionally spent, read by Sasha Pick.
Long Review: Rose Justice is an American ATA pilot who's come to England to help with the war effort. While transporting an Allied plane from Paris to English soil, Rose is forced to land and is promptly captured by Nazis and taken to the Ravensbrück concentration camp. Wein details the daily humiliations of concentration camp in a way that feels viscerally real.
Although the book is set in a series with Codename: Verity, there is very little that remains from the first book in the series. Rose Under Fire focuses on the survival and search for hope of a single individual who, unlike the protagonists of Verity, is American. There are planes and heartbreak for the reader but that's pretty much where the similarities end. Rose Under Fire is a much more brutal and a much darker book than Verity ever was. This is not necessarily a bad thing as such but it's important for the reader to know that this is an emotionally draining book, which is not entirely unexpected from Wein as an author.
As it was for Codename: Verity, Rose Under Fire is extensively researched and while fictional, no doubt shows a composite of many real lives. The atrocities described in the book really happened in Ravensbrück and the visceral details Wein provides only serve to make it more real. She does not pull any punches.
Sasha Pick does a good job of setting the scene with her voice acting and distinguishes characters easily. She conveys the emotions in the book in an understated way that manages to not take away from the listener. However, some of the voices she lends to the characters start to get a little tiring with the sheer brutality of the book.
I would definitely recommend this book to anyone who loved Codename: Verity and anyone who is a fan of historical fiction, especially books set in the second World War. It gives a voice to rarely heard viewpoints. However I don't think anyone should go into this unprepared. The book will leave you chewed up and spit out. Allow me to recommend spending some time on Emergency Kitten! afterward.