Middlesex by Jeffrey Eugenides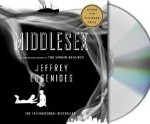 Author: Jeffrey Eugenides
Reader: Kristoffer Tabori
Short Review: A novel I absolutely love, full of gorgeous language, beautifully-rendered characters, and entrancing history and myth. Tabori's reading is downright fantastic, and Eugenides remains one of the most talented writers of his generation. This is one of the best books I've ever read or listened to.
Long Review: I read this book on paper several years ago and found it absolutely fascinating. Eugenides treats his subject matter with a great deal of tenderness and honesty, never turning towards the louche or sensational.
For those who've missed the hype: the protagonist of Middlesex is a hermaphrodite who is raised as a girl and then chooses to live as a man upon discovering the nature of his unusual condition. That's not a spoiler–the book opens with this very information. The book is about genetics, the nature of love and family, the natures of human sexuality and gender (which are two different things), Smyrna, Greek-Americans, silk, the foundation of the Nation of Islam, Detroit, racial relations . . . it's about many fascinating things. It is so engrossing because Caliope/Cal is a true work of art. Eugenides knows how to build a character. He richly deserved that Pulitzer.
Because I loved the paper book so much, I was a bit worried about picking up the audiobook. It drives me batty when someone reads a book I love in the wrong voice for my head. Thankfully, I could listen to Tabori read the phonebook. I wasn't familiar with him prior to this book, but I look forward to hearing more of his work. Tabori switches comfortably between the voices of many characters, from the basement-deep Jimmy Zizmo to the quavering, fragile Desdemona-as-grandmother. He plays the characters well, but doesn't push it too far. He's clearly playing Cal playing the other characters, rather than trying to leave his roll as first-person narrator for those other characters.
In part, the book is so successful because Eugenides is such a careful researcher. Descriptions of Smyrna, silk production, the birth of the US car industry, prohibition, Turkey, genetics, gender reassignment, and many other topics all ring true. Without that underlying research, the book would fall apart. I finished the book with a list of things I wanted to research and a real sense of wonder about Smyrna in particular.
Overall, I think the most surprising thing about Middlesex is its humor. If you describe this book or The Virgin Suicides to someone who isn't familiar with Eugenides' work, they'll assume both stories are weighty, heartbreaking tragedies. In fact, both stories are so engaging because they're so drenched in wit and humor. Cal, in particular, is charmingly self-effacing and funny. He's not self-pitying, he doesn't chastise his relatives for his treatment or his condition. He recognizes the absurdity of humanity itself, as should we all.

3 Comments