Half Magic By Edward Eager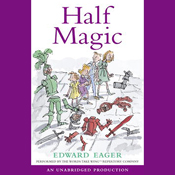 Half Magic

Author: Edward Eager

Reader: Full Cast

Available on Audible.com
Short Review: Fun listen for the whole family. A fantasy classic brought to life by a full cast. Four siblings find a magic token and wacky adventures ensue.
Long Review: The full cast of readers aim for the fun of this story – and they hit the nail on the head. Originally published over fifty years ago and set in the 1930s, this book has withstood the test of time. We listened to this one with our seven year old, and any interruptions in the story were greeted with "can we turn it back on now?".
It tells the story of three sisters – Jane, Katherine and Martha – and their brother Mark. Mostly left to their own devices for the summer as their widowed mother works to support the family, the daily life of the children is governed by their quest for adventure (and careful plans to avoid the woman meant to mind them). On their walk home from the library, Jane finds what looks like a nickle and claims it for her own. It isn't until some odd things begin to happen that she realizes that it isn't a nickle at all – but rather a magical coin that grants wishes. It grants half of any wish made by one who holds it.
The children are not just cardboard cutouts – they are real people with personalities and opinions. The story strikes a nice balance between fantasy adventures and the challenges that the children face in everyday life. We care about the four of them and their ultimate happiness, and that makes the story all the more captivating and enjoyable.
I don't always love full casts, but this one works. The narrator is perfect and the voices for the four children are distinct and believable. A lovely listen for the family, sure to put a grin on everyone's face. If you recall this book fondly from your own childhood, don't be afraid to revisit the story – you won't be disappointed.
Audio sample available online.