The Ladies of Grace Adieu by Susanna Clarke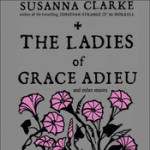 The Ladies of Grace Adieu and Other Stories
Author: Susanna Clarke
Readers: Davina Porter and Simon Prebble
Short Review: Clarke's entrancing, charming short stories about the magical world introduced in Jonathan Strange & Mr.Norrell particularly focusing on the women who practice magic in this alternate England and run-ins between Englishpeople and faeries. Prebble and Porter are incomparably good readers, taking turns reading stories about men and women, respectively. Clarke's storytelling is downright fascinating, and her language precise and beautiful. I love this audiobook, have listened to it twice, and know I'll listen to it again and again. I cannot recommend it highly enough.
Long Review: I absolutely loved Jonathan Strange and Mr. Norrell. The only real fault I found with it (and yes, I know this is obnoxious) was Prebble's mispronunciation of the word sidhe. Prebble reads the first section of this book, and I can't tell you how widely I smiled when he said sidhe, and said it correctly. We language geeks can be pleased just as easily as we can be annoyed.
The title story of this volume is one of the real gems of the book. It describes Jonathan Strange's meeting with the ladies of Grace Adieu, where his brother-in-law serves as a preacher. The Ladies, of course, practice magic in secret: in this alternate England, most Englishmen assume no women have any truck with magic, and that no one alive apart from Norrell and Strange has any real power. Porter narrates this story, and her reading is fantastic. She uses a precise, posh British accent for many of the characters, but switches deftly from one character and accent to another. She keeps to a quick pace, but her diction is so clear that no meaning or words are lost. Porter also reads "Mrs. Mabb;" "On Lickerish Hill," a retelling of Rumpelstiltskin; and "Antickes and Frets." The latter two are particularly dear to me because they trace magical spinning and magical attacks via embroidery. As a fiber-artist, I love to see anyone write well about fiber arts.
Prebble reads the introduction and the other stories in the book. Of his, my favorite is "John Uskglass and the Cumbrian Charcoal Burner," the final story in the book. It's a comic story about the play between the Raven King, a charcoal maker, and a variety of Christian figures. I chuckled at "The Duke of Wellington Misplaces His Horse," which is set in the town of Wall from Neil Gaiman's Stardust: I love to see my favorite authors collaborate.
As in the novel that precedes these stories, Clarke plays with concepts of femininity, magic, learning, power, manners, history, and morals. She erases the silly, romanticized visions of faeries and replaces them with portraits of dangerous, powerful, careless otherworld people. Her heroines subvert the rules laid out for them, however secretly. Her heroes win more often through study and thoughtfulness than force. I love her England. I want more of it.
Clarke's audiobooks are some of the finest examples of the art I've come across. The author's stories and language are beautiful and entrancing, and the readers are engaging, precise, entertaining, skilled with accents, and a joy to listen to. I can't wait for Clarke's next book, and when it does come out, it will be hard to decide whether to read it on paper first or listen to the audiobook version first.