James and the Giant Peach by Roald Dahl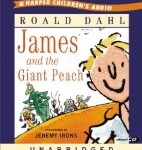 James and the Giant Peach
Available from Audible.com
Author: Roald Dahl
Reader: Jeremy Irons
Short Review: One of my favorite Dahl books, read enchantingly by the inimitable Jeremy Irons.
Long Review: I love Dahl in general and this story in particular. It's a wonderful book that manages to reward the main character's kindness, and bravery, punish his evil aunts, exemplify great comic poetry, and lionize bugs. It's funny, it's sweet, it's filled with black humor . . . it has so many things to recommend it as a book read on paper. Irons' narration makes it even better. He throws himself so completely into the reading, building excitement, savoring the poetry, playing with accent and pronunciation, and just generally having such a great time that I couldn't help but have a great time listening to him.
I know the book itself has been challenged a number of times as inappropriate for children, but I think the claims against it are ridiculous. Yes, the two villains are criticized for their body types, but no more so than would a woman in any fashion magazine. Yes, there is profanity in it, as well as smoking and drinking–big deal. The world is full of all three, and kids know it. The book has also been attacked because it encourages children to rebel against adults. I think that is perhaps the truly telling attack: many people are so busily wishing kids would just do what they're told and forget there are times when children absolutely need to rebel against adults who are wronging them. My heart soars each time I think of James breaking the yoke thrown on him by his evil aunts and finding friends who appreciate his cleverness and bravery.
I love the book. I'll listen to it again, and I'll share it with my nieces and nephew. If their parents complain about anything in the book, I'll have a hard time working up an apology.
Sample audio available.