The Outcasts of 19 Schuyler Place by E.L. Konigsburg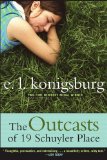 The Outcasts of 19 Schuyler Place

Available from Audible.com
Author: E.L. Konigsburg

Reader: Molly Ringwald
Short Review: Solid story and well read. Twelve year old Margaret Rose's summer turns into an exploration of what is important in life – and what you are willing to do to defend uniqueness, beauty and love.
Long Review: I wasn't quite sure what I thought of Molly Ringwald as an audio book reader, but I was willing to give it a try given how much I like E.L. Konigsburg's writing. Ultimately I really enjoyed her as a reader. She was just the right voice for Maragret Rose's first person tale.
In some ways this is a classic 'teen girl learns about herself and makes hard choices' sort of story, but Konigsburg gives us more than that. She weaves a rich world in which that which makes you unique is valued. Margaret Rose starts her summer at Camp Talequa but she so dramatically doesn't fit in that she requires rescue by her uncles, the brothers Rose. She ends up spending the rest of her summer with these eclectic old world uncles.
In the back yard the uncles have built three clock towers covered in bits of broken china, jewelry and other found bits. Margaret Rose thinks they are the most beautiful creations in the world – but the local town doesn't agree. Konigsburg's story chronicles Margaret Rose's world and her fight to stay true to herself with a rich vision that is colorful and tactile. I felt immersed in her world. I could smell food cooking in the kitchen and paint drying on the walls. I could see the towers rising up to glint in the sunshine.
I recommend this as a lovely diversion. I hope you enjoy it as much as I did.