Behemoth by Scott Westerfeld (Leviathan Trilogy)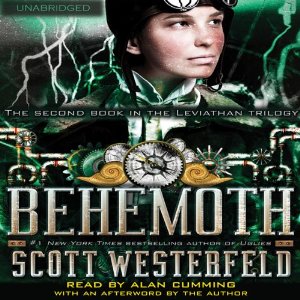 Behemoth

Available from Audible.com
Author: Scott Westerfeld

Reader: Alan Cumming

Bonus: Endnote read by the author detailing what is fact and what is fiction
Short Review: In this stunning follow up to Leviathan, Alek and Deryn continue on their intricate path through the steampunk inspired alternate World War I created by Westerfeld. In this rollicking adventure we weave through the back streets of Istanbul, eggs are hatched, some secrets are revealed while others stay safely hidden.
Long Review: The fear of the sequel is quite reasonable. Many of us have been let down after long waits for the next installment of some amazing volume. Fear not – this sequel is the real deal. This is the type of sequel that makes you wish the next one was sitting right behind it on the shelf – but sadly we must wait until September 2011 for the third in the trilogy, titled Goliath
.
Behemoth retains our favorite characters and introduces a few new ones. I especially love the strong women and girls in this book. Westerfeld manages to have such a great mix of male and female characters, not to mention just a great story, that this should appeal to young adults of both genders, as well as adults who enjoy alternate history or steampunk.
I don't want to give away any of the fabulous twists and turns, but I can't resist repeating that the bulk of the story takes place in and around Istanbul. It is a fabulous rich backdrop to this chapter of the story with lots of ornate detail (the author traveled there to get a first-hand feel for the place) as well as a great mix of cultures and languages.
The reader is still fabulous and takes on all the assorted new accents necessary. I love when the voices are so distinct that I know who is speaking without needing to be told. While I know that I am missing out on the beautiful drawings in the paper version of the book – I still feel like I have the chance to paint the tale with my own imagination while listening to Cumming's adept reading.
The story gives us a chance to get better acquainted with both Alek and Deryn/Dylan. While the first book spent more time setting up the story and all the supporting characters necessary, this book gives us a chance to just watch Alek and Deryn/Dylan grow and evolve as they work their way around all the obstacles in their paths. We also get new beasties large and small (or should I say gargantuan and petite?) – and of course there are more clanker machines, bigger and more fabulous than ever.
As a special treat at the end we get to hear Westerfeld himself explain which parts of the story are history and which parts he made up.
If you haven't read Leviathan, I would begin with that book first — but I wholeheartedly recommend this book without reservation.

One Comment