The Tiger in the Well by Philip Pullman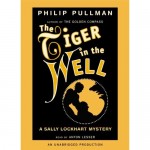 The Tiger in the Well
Author: Philip Pullman
Reader: Anton Lesser
Warning! If you have not yet read The Shadow in the North, stop reading this review. There's no way to review this book without giving spoilers for the previous book in the series.
Short Review: The third Sally Lockhart mystery continues Pullman's engrossing story of a young Victorian woman, expertly read by Anton Lesser. This book delves further into questions of women's and children's rights in Victorian Britain and also examines worker's and immigrant's rights and antisemitism.
Long Review: This book opens three years after the last closes, and we find that Sally is now a mother to Fred's child and grieving his death. Jim and Webster are out of the country, and Sally is living at a country house and still running her financial advisory business, now with the aid of a partner and a house staff. Sally is visited by a process server who serves her with divorce papers for a marriage she never engaged in, and as happens in this series, all hell breaks loose. This entire series is full of intrigue and danger, but I found this one the most frightening because the threat is against Sally, but also against her daughter Harriet, and Sally has so few people to help her and so few tools to aid her. It's truly terrifying.
I found Pullman's inclusion of the London Jewish community in the story incredibly interesting. I'm no expert on Jewish history, and the book made me want to study more. I love it when that happens. I am more familiar with British women's history, particularly the history of Suffragists and other early women's rights activists, so I found that aspect both comfortably familiar and very interesting.
Anton Lesser reads this book as fantastically as he read the two prior books in the series. The sense of desperation and drama tightens as the book progresses. He does a great job with the broadened array of accents and characters in this book. I cannot wait to listen to more books read by Lesser.
This book has been criticized for being overly political and for containing content that is inappropriate for young readers, as were the earlier books in the series. In this novel, I agree that Pullman puts too much emphasis on the political, which slows the book down a bit. I don't think the book contains anything inappropriate for young adults though, particularly in light of the standard fare for teens available on TV and the web. For me, Pullman's writing and Lesser's reading are enough to bolster the weaker parts of the book.