Leviathan by Scott Westerfeld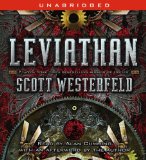 Leviathan

Available from Audible.com
Author: Scott Westerfeld

Reader: Alan Cumming
Short Review: Fun and captivating steampunk adventure set in an alternate World War I Europe. Strong male and female leads should keep both genders interested and a very talented reader makes the story zoom along.
Long Review: This book was fabulous. I will admit that it took me a little time to get pulled in, but once I was firmly entrenched in the steampunk world Westerfeld has created I wanted to stay. I was slightly heartbroken when it ended, consoled only by the thought of a sequel surely already in progress. (Note: I originally listened to this before the sequel came out – but it has been available since October, 2010: Behemoth (Leviathan Trilogy)
)
This is the story of the Clankers, who build fast, loud and greasy machines, and the Darwinists, whose merge and create new species to spec. This is also the story of a boy and a girl, each swept along by history and entangled by the war. The boy is a prince with no place to go. The girl is dressing as a boy to serve her country. I loved the number of details from the early 1900s that Westerfeld worked into the story. At the same time he is clear about his alternate time-line, a world war in which Clankers and Darwinists are struggling for power.
This is an adventure story full of chases, narrow escapes, battles, malfunctioning gear, explosions and long cold nights. I don't want to give any more specific details because I think you will enjoy the story more with less knowledge going in.
The reader does an excellent job, both with voices and narration. This is the sort of reader who just fades into the background while you get enveloped by the story.