Catching Fire (Hunger Games, Book 2) by Suzanne Collins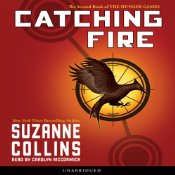 Catching Fire (The Hunger Games, Book 2)

Available from Audible.com
Author: Suzanne Collins
Reader: Carolyn McCormick
WARNING: Have you read The Hunger Games yet? No? Then stop and go listen to that before reading this review. There is NO way to even describe this book without huge spoilers of book one.
Short Review: Strong sequel, with a slightly different pace than the original. Our protagonists are barely out of the arena on their way back to District 12 as they begin to realize the strangle hold the capitol still has on their lives. More characters, more suspense – a fun, if dark ride.
Long Review: We rejoin Katnis and Peeta in Panem for the aftermath of the Hunger Games that took place in Book 1. If you thought they won and the capitol was done with them, you are in for a surprise. The great thing about this sequel is that Collins found a way to surprise her audience and extend the suspense. She clearly has a very detailed vision of Panem and the balance of power between the districts and the capitol. I enjoyed meeting more of the prior victors from earlier Hunger Games. Each victor added to our depth of understanding of life and culture in the other districts.
Collins definitely has a fertile imagination when it comes to ways to traumatize everyone we come to care about! I don't want to go into too much detail – but you won't be disappointed.
I still don't love McCormick as a reader – but at this point I guess I have gotten used to her. The story is still so captivating that if her reading is the way to get to hear it read to me, I will live with it. I suspect that with a better reader I would push this up to a 5 star rating.
As far as sequel's go, this one does well. I think I still like the first book better, but this one is not far behind. If you loved Hunger Games, move on to this one with no fear of the typical sequel letdown.

One Comment