American Gods by Neil Gaiman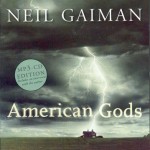 American Gods
Author: Neil Gaiman
Reader: George Guidall
Available from Audible.com
Short Review: A fantastic picaresque novel about a man traveling throughout the US, working for and with American Gods. It's expertly read by one of the most respected narrators in the business.
Long Review: Jeanne and I regularly joke about the need for more negative reviews on this site. This review won't help to moderate our reviews one jot.
I love this novel so much on paper that I was slow to choose it to listen to. I loved Anansi Boys as much as Jeanne did, but knew that I wouldn't have Lenny Henry as a reader this time around. I know many people who are fans of Guidall's narration, but I wasn't wild about his reading of Heaney's translation of Beowulf, so I was a bit hesitant to hear his version of one of my favorite books. But then I was staring down a long, intricate project that I knew would require a good long audiobook to keep me going, and in stepped Guidall.
He did a fantastic job with this novel. His reading is well paced, his variations in accent and tone for different characters is consistent and strong, and he obviously enjoyed the book. His smokey natural voice is particularly suited to many of the characters in the novel, but particularly Wednesday and Shadow. My only complaint is that Guidall mispronounces the names of a number of Gods who show up in the novel. I know not everyone will catch the errors, but they set my teeth on edge.
The novel itself is one that I think everyone should read. It appeals particularly to mythology buffs like me, but I think other people enjoy it for a hundred different reasons. It's a good Road novel, and it's a mystery. It touches on prison, and family, and marriage and love, heroism and bravery, grifters, sensuality, small towns and cities, trust and betrayal, sacrifice and belief. Finally, it's a winter novel that passes over the holidays but isn't about them–that's exactly the antidote I need at this time of year. I'm tempted to hit the back button and listen to the whole thing again right now.

American Gods

2 Comments