The Hunger Games by Suzanne Collins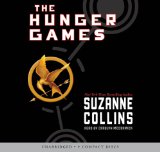 The Hunger Games
Available from Audible.com

Author: Suzanne Collins
Reader: Carolyn McCormick
Short Review: Creative, captivating and intense young-adult drama with a strong 16-year-old female protagonist and set in a brutal far-future. Decent reader, but I kept wishing for a bit more emotion in her reading. That said, the story was so captivating that I couldn't stop listening!
Long Review: I am a big fan of world building done well – and Collins has built a rich vision of a far distant future both more technologically advanced and more brutal than what we might expect. In this far future, children from across former North America (now called Panem) are forced to fight to the death in a carefully wrought creation that is part reality TV, part survivor and part Roman Colosseum. The tension between the ivory tower of the capitol and the impoverished and heavily restricted lives of those in the twelve districts which support it stretches from start to finish. There is a lot to chew on here.
Against this backdrop we get to know Katniss. Katniss Everdeen is 16 and lives in the coal country of District 12 with her mother and younger sister.  Katniss spends most of her time each day hunting, gathering, or trading for enough food for her little family to survive. She has been fighting to keep herself alive for years. The transition from being the girl who brings people meat to being a tribute from District 12 fighting for her life is less startling than you might expect.
Katniss has watched the Games every year (the power never goes out when the Games are on) and she does everything she possibly can to increase her chances of survives. Collins reveals details of how things work in this world gradually. Right up to the end of the story we are learning about Panem and learning about Katniss. I appreciated hearing this story from her perspective. It makes all her choices and experiences feel closer to the surface. Even when we understand things that she cannot, usually in the emotional attitudes of those around her, we see only what she sees.
I did not love the reader. I felt that McCormick kept Katniss and the intensity of her world at arms length during the reading. It is hard to put my finger on what bothered me. The dialog was fine, with reasonable and recognizable voices for the characters. It was long stretches of narration that felt too rhythmic, too even-keeled somehow. It wasn't enough to keep me from enjoying the story – but I kept catching myself trying to imagine what it might sound with a different reader.
Overall, it is an amazing ride and I am hungry for the sequel. Collins has created a terrifying world and I can't wait to see what happens next.

2 Comments