Anansi Boys by Neil Gaiman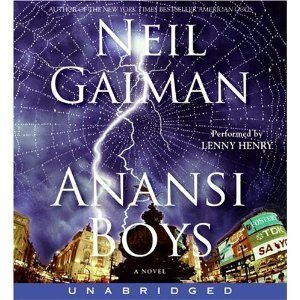 Anansi Boys

Author: Neil Gaiman

Read By: Lenny Henry
Short Review: Funny, dark, whimsical, captivating and carried to your ear via the melodic and varied voices of the incredible Lenny Henry. One of those audio books that will make you find excuses to listen to just one more chapter.
Long Review: This is one of those magic tales that I think I might have struggled with reading on paper. The fact that I found it first on audio is a tale of luck in itself. Lenny Henry was the magic ingredient I needed to pull me into the heart of this tale. He delivers the story with its requisite wide range of accents – all of which ring true and made the story live more for me than it would have on the page.
Neil Gaiman has created a fabulous assortment of people (and those who are more than people). He has spun the tale of an average Joe who thinks he isn't anyone special. We get to go along for the ride as he discovers his true and amazing self. It is a tale of finding your way and discovering the magic that is hidden from most of the people in the world.

Anansi Boys

2 Comments