Neverwhere by Neil Gaiman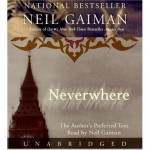 Neverwhere
Author: Neil Gaiman
Reader: Neil Gaiman
Available from Audible.com
Short Review: One of my favorite urban fantasies, read expertly by the author.
Long Review: I think it's very brave for authors to narrate their own audiobooks. Many authors try it and fail. Gaiman, however, is consistently good as a reader. His pacing is wonderful, his diction is good, he obviously understands the emotions and pacing of the story, but is better able than most non-actors to get that meaning across to the listener. This audiobook reminded me of just how much I'd enjoyed Gaiman's narration of both Fragile Things and The Graveyard Book. I'd like to think his daughter grew up with the best bedtime stories in the world. This book seems to argue that she did.
The story follows Richard Mayhew, a young Scottish businessman living in London and preparing to marry his controlling, posh girlfriend Jessica. Richard decides to assist an injured young woman he finds on the street, and who appears to be homeless. And then everything goes haywire. Door, the young woman, turns out to be from "London Below," a world heretofore unknown to Richard. Villains come looking for Door, who narrowly escapes with Richard's assistance, and he assumes all will return to normal once Door is safely away. However, Richard becomes inexplicably invisible to the London where he lives, and inadvertently departs for a quest, attempting to help Door and himself, working with and against a number of interesting characters in London Below. One task and one danger follows another, and we watch Richard grow from a clueless office drone into a real hero, in the classical sense of the world.
Part of the reason I appreciate Gaiman's books so much is that I'm such a fan of mythology in general and Joseph Campbell in particular. Gaiman clearly understands, and likes to play with, the hero cycle Campbell elucidates in The Hero with a Thousand Faces. Richard, as a modern man, was unprepared for the tests and adventures awaiting him, so his transformation into a hero baffles him. He's likable though, and layered, as are most of Gaiman's characters. His villains in this book are excellent as well–terrifying and powerful, and seemingly undefeatable. He questions modern priorities and relationships, the careers available to most people and how they differ from the things we dream for ourselves. I always come away from Gaiman's books reassessing how I spend my days, and whether I'm allowing the mundane to usurp the time and space I like to save for wonder.

3 Comments