Fragile Things: Stories Fictions and Wonders by Neil Gaiman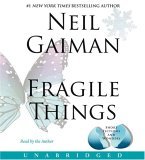 Fragile Things: Stories

Author: Neil Gaiman
Read by: Neil Gaiman
Short Review: A solid book of short stories read beautifully by the author.
Long Review: I am a fan of Gaiman's, so I was bound to pick this up eventually. Jeanne's glowing review spurred me to pick it up at the library, and I was not disappointed in the least.
As is often the case, Gaiman's publisher released this anthology of short stories not long after his novel Anansi Boys became such a huge hit. Sometimes those volumes of short stories, collected from periodicals hither and yon, are a waste of paper. Well, not this one. This is a solid collection of stories, as evidenced by the number of awards won by individual short stories in the anthology.
The Huge-Award winning "A Study in Emerald" is one of the standouts in the collection. I'm a Lovecraft fan and a Conan Doyle fan, so I was a bit wary of that story in particular. I didn't see how the two could be blended. Well, of course, Gaiman did, and he melded the two giant's universes gorgeously.
"October in the Chair" is another gem. It's a story within a story, and the frame story in and of itself is one of the most enchanting things I've ever come across. I will never think of the months in the same way again. Gaiman built a new mythos and dropped it right into my head with a satisfying clink.
"Forbidden Brides of the Faceless Slaves in the Secret House of the Night of Dread Desire" is pithy and funny and good, and a great way to flip classic horror onto its head.
A few of the stories fell flat for me, but the best stories in the anthology were so intriguing that I know I'll listen to at least those again and again. And the listening is truly enriched by Gaiman's narration. Many authors have no business reading their work aloud–that's not true of Gaiman. His voice is expressive, his timing is great, and his diction is beautiful. I'd actually like him to take work as an audiobook reader for other writers, but I don't think that's terribly likely. Instead, I'll just cross my fingers and hope he narrates some more of his own work for future audiobooks.

Fragile Things

3 Comments