The Graveyard Book by Neil Gaiman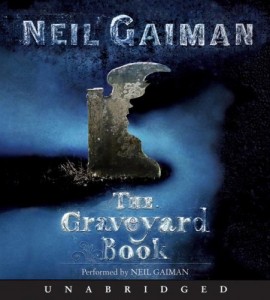 The Graveyard Book
Author: Neil Gaiman
Reader: Neil Gaiman
Short Review: Neil Gaiman reads his Newbery Medal winning book beautifully. His nod to Kipling's The Jungle Book is just scary enough, intriguing, inventive, well-written, enchanting . . . it's downright wonderful. I loved Bod, Silas, Scarlett, Liza, Miss Lupescu, and the rest of the graveyard's denizens and rooted for them throughout the story. I miss them. I'll return to this book again and recommend it to adults and kids.
Long Review: I'm a fan of Gaiman's, and I am always intrigued by critically-acclaimed young adult fantasy, so I had to listen to this book. I was hopeful, but also worried. Some of the best books I've ever read were those I read when I was 10 or 12. I return to those books and keep tabs on books written for older kids, hoping to find more books to cherish and to foist on my growing nieces and nephews. But many things we're supposed to love just fall flat for me. I'm not that impressed by some of the most beloved YA books, and some of the ones I did love then show me all of their holes when I pick them up now. This one, however, makes the good list. It's rich enough for adults, appropriate for older kids, and enchanting for both.
Firstly, Gaiman is good at holding back. So many authors hand you all of the keys right at the beginning of the journey, and then you don't have much to puzzle through and have less reason to keep going. Gaiman fights the urge to make sure he has told us everything there is to tell, so we keep reading, trying to line up our questions with possible answers, paying close attention to every little clue, wondering whether a character will return or a path will reappear. He refers to fascinating historical events and invents wondrous rituals and characters and communities, but he doesn't give you so much information that any become boring. Neither does he condescend to his readers. I hate it when writers assume that kids can't handle any frightening truths about life and death. In fact, kids see as much if not more terror and sadness as adults, and most of them don't like being coddled. Gaiman doesn't condescend to his readers or to the children who feature in his books.
Gaiman also happens to write strong female characters well. I wish I didn't need to congratulate authors for doing that, but it still isn't a given. Gaiman is a father to two daughters as well as the son whose childhood visits to a graveyard inspired this book. I think his relationship with his girls and the women in his life help him write girls and women well. That ability is particularly important for children's and YA writers because so many boys are still hesitant to read books with female protagonists. Here, a boy is at the center of the story, but he's surrounded by smart, heroic, strong, loving women and he cares for and respects them as much as he does Silas. It warms the cockles of my heart, that does.
Gaiman's mythos is rooted firmly in the old greats. We see glimpses of well-researched historical fact, notice a figure from Grimm here and and an allusion to the Odyssey there. But from those roots, he takes us in very interesting directions. I love how he recasts traditional villains in new ways, making us wonder how evil some of the things we've had nightmares about really are. He takes the trope of fractured fairy tales a step further than many of his contemporaries. Gaiman doesn't bother to argue with Grimm about who really understands monsters—he just plain rewrites the story in his way. It works.
I am impressed by Gaiman's reading. I thought he did a great job with Fragile Things, and, if anything, he has gotten better. Gaiman has a nice voice, a good sense of character separation, paces himself well, and uses clear diction even when he is reading in different, heavier accents.
My only complaint is that a sequel isn't available yet. I want to see more from this world, and I hope to see it soon.

The Graveyard Book

One Comment