3 Willows: The Sisterhood Grows by Ann Brashares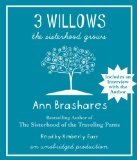 3 Willows: The Sisterhood Grows
Author: Ann Brashares

Reader: Kimberly Farr

Extras: Interview with the author.
Short Review: The summer before high school, three old friends grow, change, and find their way back to themselves.
Long Review: If you read or listened to any of the Sisterhood of the Traveling Pants series, then you will be familiar not only with Brashares's style, but also the universe in which this story takes place. These girls go to the same school as the Sisterhood girls, but are a few years their junior. The social circles overlap just enough to give fans glimpses of favorite characters from the earlier series.
I liked it. I enjoyed the reader. I enjoyed the story. It tackles a number of teen issues, but there is enough actual story that I didn't feel like I was reading a 'teen issues' book. For those of you wondering, it was a mixed bag including divorce, mourning, body image, substance abuse, self-confidence and independence.
Our three protagonists had been best friends for years, their worlds joined back to three trees they planted and tended together. But now they have drifted apart under the looming pressures of high school and the demands of new social circles. This summer pushes each of them on a different solo journey as we wonder if they will ever find their way back to each other and the joys of old friends.
The reader did a nice job with various voices and a nice overall tone. Her narrative voice was pleasant and made me want to listen whenever I had a spare few minutes. I especially enjoyed the interview with the author provided at the end of the book. She shares some of the story behind her creation of 3 Willows, how it ties in to the Sisterhood of the Traveling Pants series and about her writing process in general. A really nice addition to a solid audio book.

One Comment