The Likeness by Tana French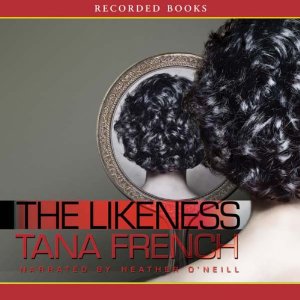 The Likeness
Available from Audible.com
Author: Tana French
Reader: Heather O'Neill
Short Review: Tana French's strong second novel read beautifully by Heather O'Neill. In this sequel to In the Woods, we follow Cassie Maddox in a strange undercover murder investigation. Cassie gets back on her feet and then gets knocked right back off balance imitating her deceased doppelganger while looking for a killer, a motive, a weapon, and a lot of answers.
Long Review: In a strange series of events, Detective Maddox is called in to the murder investigation of someone who has stolen the identity of Cassie's undercover persona, Lexie Madison. Sliding into her double's life, Cassie has to find the actual identity of her doppelganger and who killed the fake Lexie, all the while trying to pretend to be Lexie, keep her love-life and career afloat, and recover from Operation Vestal.
I won't say more about the plot. I will say that Heather O'Neill, who I'm not otherwise familiar with, did a fantastic job as a reader. She has a good Dublin accent, does a decent job with a Northern Irish accent, and, thankfully, can sing. Singing matters in this book because one of the major characters sings in several scenes, and I'm very glad not to be subjected to something hard to listen to. O'Neill has real skill as a reader, and I look forward to listening to more audio books she narrates.
I liked In the Woods but felt like it had a couple of flaws. French's second novel is much improved. I prefer Cassie to Rob, the protagonist of the first novel, so I'm glad the author changed focus for this novel. Cassie was a major character in the previous book, and I was forever wishing French would drop Rob and switch to Cassie in that novel, since Rob clearly wasn't thinking straight through most of the story. Cassie is a more reliable narrator, and also generally a more attractive character. She's the kind of detective I think I'd want on my side, were I ever unfortunate enough to need a detective on my side. She recognizes her mistakes as she makes them, tries to keep the victim in mind as well as the killer, and is just generally intriguing and bright. The rest of French's characters are likable and interesting as well. In many mysteries, the plot trumps the characters and once you've figured out "who done it" it's hard to maintain interest in a cast of cardboard cut-outs. Thankfully, I was still interested in the fate of these people long after I'd puzzled out where French was going in the mystery.

One Comment