In the Woods by Tana French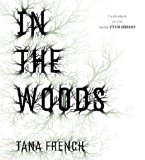 Author: Tana French
Reader: Steven Crossley
Short Review: This Edgar Award winning novel traces a murder in Ireland, following the detectives investigating the case and flashing back to an earlier, similar unsolved case. It is a good novel beautifully read by Crossley, but the novel itself annoys me in a few spots (which I won't actually describe, because we try very hard to not throw spoilers about).
Long Review: This is French's first novel, and it bodes well. Set in Dublin, the book follows detectives (Adam) Rob Ryan and Cassie Maddox as they investigate a puzzling murder case in the Dublin suburbs. A young girl is found dead on an archaeological site, and no motive or suspects present themselves. The case seems to echo one from Ryan's childhood, though, and the connections between the two cases become obsessions for Ryan and Maddox.
I won't say more about the plot of the book. I will say that Crossley is a very talented reader. The book is Rob's first-person narrative, so Crossley plays Rob throughout. Though Rob is Irish, he was educated at a British boarding school, so has a posh English accent. Crossley has a wonderful voice and very good diction, but he doesn't sound overly mannered or formal as he reads. Because the book is narrated by Rob, this is vital. First person narrators rarely sound like elocution professors, at least in my head. Also, Crossley generally does a good job with the Irish accents that crop up in the book, which makes a big difference to me.
Cassie really comes off as the protagonist, at least to me. She is at the center of French's second book, The Likeness, and that alone makes me want to read it. Cassie is smart, funny, and strong, and really the sort of female character I wish would show up in every book and movie made from here on out.
The bits of the book that annoy me are part and parcel of the story, so I forgive the author. I think Ryan and Maddox are well-drawn characters. I just don't always like Rob very much. Frankly, I want to throttle him. That's really required by the book though, so I don't hold it against French. I have read the book on paper as well as listened to the audiobook, and my reaction to the plot and to Ryan doesn't really change from one format to the other.

9 Comments