Going Postal by Terry Pratchett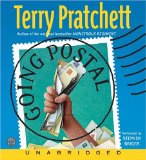 Going Postal
Author: Terry Pratchett
Reader: Stephen Briggs
Short Review: Another very entertaining Discworld novel read wonderfully by Stephen Briggs. This story follows forcible-reformed former con-artist Moist von Lipwig (a.k.a. Albert Spangler) as he attempts to reform the Ankh-Morpork post office at the behest of Lord Vetinari. The story teems with great characters, intrigue, technomancy, bureaucracy, golems, ponzi schemes, small gods, mail, stamps, secret societies, and a pirate.
Long Review: As I mentioned in my review for Thud!, I love Briggs' narration. Love it. Again, he does a wonderful job voicing a variety of different characters, keeping the story moving at a good clip but maintaining clear diction, and generally just being a damn good reader.
Pratchett plays with a lot of current events in this book, as he does in several discworld books. In this instance, we're looking at amoral business practices, monetizing of information transfer, competition between old and new methods of moving information, and labor law and ethics. Pratchett elevates the importance of the written world within the discworld universe in general and this novel in particular, which is a downright common trope among writers and one whose absence would make me wonder. He also comes down firmly in favor of workers' rights. As usual, the ideology Pratchett serves up goes down easily because it's sweet and easy to chew. I guess some people would take umbrage with Pratchett's political content, but I tend to agree with the man so I don't quibble.
Moist von Lipwig and Adora Belle Dearheart make a great pair of central characters, and I look forward to reading more about them in future books. I also prefer layered characters to flat ones, and Lipwig and Dearheart are both craggy enough to hold a lot of interest. I also loved getting a closer look at Lord Vetinari and learning more about the Golems of discworld.

Going Postal

One Comment