The Big Sleep (Dramatized) by Raymond Chandler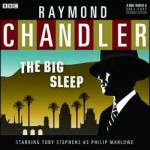 The Big Sleep
Author: Raymond Chandler
Reader: Full Cast: Toby Stephens, Kelly Burke, Barbara Barnes, Madeleine Potter, Leah Brotherhood, Sam Dale, Sean Baker, Iain Batchelor, Henry Devas, Jude Akuwudike
Short Review: A fun, dramatized read of Chandler's hard-boiled classic.
Long Review: I haven't listened to many audiobooks that featured a full cast, but I'm a big fan of film noir and hard-boiled detective stories, so this seemed like the perfect opportunity to explore the BBC's Radio 4 series of dramatized classics. I adore Chandler's style and had read the book on paper, so I knew the story itself would entertain me. I think most of Chandler's books are worth reading a few times, and this is one of my favorite ones.
The story hangs on Philip Marlowe, and Toby Stephens' Marlowe is pitch-perfect throughout. His voice is nice and deep and gravelly, and he knows how to sell the lines. The rest of the cast does a great job as well–the production team was clearly careful about casting and rehearsal–two things I wish were more standard parts of the audiobook production process.
The music and sound effects are good too. I expected to be put-off a bit by the level of orchestration and number of effects, but I found it enthralling. This is a short audiobook, so I didn't have time to get tired of the bells and whistles–well–the bangs and engine noise. It didn't bother me one bit.
I'll probably stock up on the other titles in the series. I think they'll make perfect road trip fare, and I have plenty of driving to do this summer.