Mockingjay (Hunger Games, Book 3) by Suzanne Collins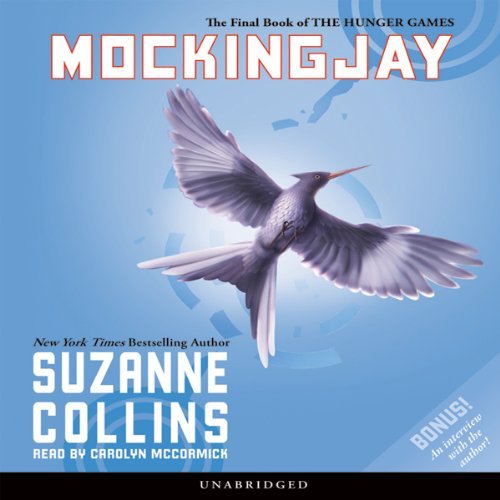 Mockingjay (Hunger Games, Book 3)
Author: Suzanne Collins
Reader: Carolyn McCormick
WARNING: Have you read The Hunger Games and Catching Fire yet? No? Then stop and go listen to them (in order) before reading this review. There is NO way to even begin to describe this book without huge spoilers of the first two books.
Short Review: Intense, captivating final book in the Hunger Games trilogy. Lots of twists and turns lead us through this darkest chapter of the series. Action plus emotional turmoil make this a roller coaster ride. Satisfying conclusion for most, perhaps bleaker than some readers are expecting.
Long Review: The end of Catching Fire leaves us with Katniss rescued and being transported to District 13 while Peeta remains a captive of the Capitol. Mockingjay gives us a lot more information about both District 13 and the Capitol. Finally the veils are lifted so we can see the full scale of the rivalry between the two for control of Panem. All this is revealed as we watch Katniss put through the emotional wringer time and again.
For me, the beauty of this installment of the story is the contrast between Katniss's personal struggle and the struggle of the resistance against the Capitol. I expect that most readers are chasing after this sequel to find out if Katniss ends up with Gale or Peeta – and those readers will have their questions answered clearly. For those who have been wondering at the bigger picture of Panem and how District 13 fits in – those readers should be satisfied as well.
Mockingjay makes a clear choice to focus on Panem as a society. We learn, along with Katniss, about the politics and the powers at play. I think it is a good thing that Collins is able to surprise the readers. I know that some who loved the first two books will be disappointed by the shift in tone and scale of the story – but I hope that most of you out there will enjoy it as much as I did. And don't worry – there is still plenty of action and suspense.
As I have mentioned in my reviews of The Hunger Games and Catching Fire,  I don't love McCormick as a reader – but after two volumes with her as a reader, her voice (and those she uses for the characters) is familiar. With another reader I suspect I would push this up to a 5 star rating.

One Comment