Fever Crumb by Philip Reeve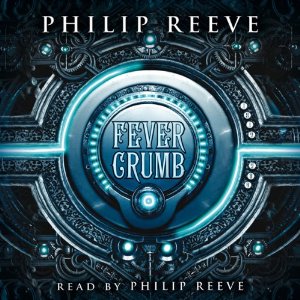 Fever Crumb

Available from Audible.com

Author: Philip Reeve

Reader: Philip Reeve

Extras: Unpublished excerpt and discussion by author about the origins of the story.
Short Review: Imaginative and original steampunk story set in a distant future London and beautifully read by the author.
Long Review: Fever Crumb is an odd girl. She has no hair (hair is apparently not logical). Raised by London's Order of Engineers in the far distant future, Fever has been taught to trust only logic and has spent most of her time assisting her adoptive engineer father Dr. Crumb.
Outside the enormous statue head in which the Order lives, London is a chaotic place more concerned with fear of the fairly recently overthrown tyrannical Scriven than with logic and reason. Anyone who looks different is suspect. The most revered are those known as Skinners who did the dirty work of killing the Scriven and reclaiming London for the regular humans.
The steampunk flavor is steeped into the story, with plenty of odd machines and quirky science against a backdrop that feels Victorian. Strange automaton creatures made of paper, known as paper boys, are capable of both surveillance and attack in a style reminiscent of terminators – if not as durable.  The interesting thing about the technology is that no one knows how to recreate the parts for the machines. It is all about scavenging parts and reusing them to build what they need now – and here is why the Order of Engineers is so important and revered. They are best at figuring out how to fix and build with all these old technology bits. Archaeologists are important for their finds of new caches of old tech. Out beyond the well guarded edges of London we know there are enemies – and who knows what they would do if they broke through the defenses and took over the city!
This is Fever's world, in which babies are often named after the symptoms they experienced while pregnant. There are mysteries and mis-communications all around, and by the middle of the book I felt truly sucked in and anxious to see where we would end up. This is a prequel to Reeve's Mortal Engines Quartet
, but I have never read the main series so I cannot speak to how it relates. I do understand that it precedes the Mortal Engines books by many many years. I like the world that Reeve has built for us. It is imaginative and often amusing in the tidbits that are dropped from our pop culture into the time of Fever Crumb – often with little or no understanding of their origin.
As I have said before, some authors should not read their own work – but that is NOT the case for Philip Reeve. I was disappointed to go hunting for the Mortal Engine audio books only to discover that they doesn't seem to have ever been recorded – by Reeve or anyone else.
The only thing that kept this from being a five star book for me is that it did feel like a prequel at times. I want the next book more than I want to listen to this one again, but I would definitely recommend it to anyone who is a steampunk fan or who is looking for a new world of intricate surprises and mysteries to solve.

6 Comments