The Girl with Glass Feet by Ali Shaw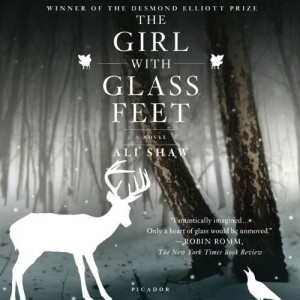 Available from Audible.com
Author: Ali Shaw
Reader: Heather O'Neill
Short Review: An enchanting mythic fantasy about a woman searching for a cure or explanation for the mysterious ailment that is causing her feet to turn to glass, read beautifully by one of my favorite readers.
Long Review: Ali Shaw was working at the famous Bodleian library at Oxford when he wrote this book. I can't help but think that that storied collection crept into his first novel. The book is set on the fictional St. Hauda's Land, a remote northern archipelago peopled by unusual people and animals. Ida Maclaird returns to the island seeking a strange man she met there on a previous vacation and an explanation for her unique ailment. She meets and befriends Midas Crook, an awkward young photographer, and asks his assistance in her quest. As the story progresses, Ida attempts to help Midas come to terms with his family and his feelings.
Heather O'Neill is a fantastic reader, and I think her tone and pacing were just right for this book. I was excited to get to listen to her narration again, and enjoyed this book ever more than I did The Likeness.
Shaw's book is so entrancing because of how he plays with mythic themes. You can tell he's fully-versed in myth and fairy-tales, but this is no retelling of a classic story. He draws from that imagery and makes gorgeous, subtle allusions, but he creates something wholly new for us. The fantastic animals he invents for the story are particularly interesting, and help establish the strange, magical locale where such unusual things can happen. This isn't fantasy in the sword and sorcery vein. St. Hauda's land feels real and modern, though uncomfortably different. And his characters-his characters! I want to know Ida and Midas and Henry Fuwa. I feel as if I could meet them on the train.
I look forward to Shaw's next book, and I'm crossing my fingers that O'Neill will read the audio version.