Reamde by Neal Stephenson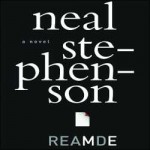 Author: Neal Stephenson
Reader: Malcolm Hillgartner
Short Review: A fantastic, well-read, fast-paced novel of hackers, criminals, anti-heroes, terrorists, and gamers.
Long Review: I adore Stephenson's books, so I was at a loss when Anathem fell short for me. When a friend told me the day after Reamde was released that I was in for a treat, I immediately rushed home and bought a copy of the audiobook. And then I rescheduled as much as I could so I could listen to it constantly until the book was over. I binged on this book like a kid with a bag of halloween candy. I loved it like I loved Snow Crash and The Diamond Age: Or, a Young Lady's Illustrated Primer, and I love them almost as much as I love my dog.
This novel opens at the Forthrast family reunion, where we meet our protagonists. Richard owns a company that created T-Rain, a popular MMORPG, and he offers his adopted niece Zula a job working on their new game. And then all hell breaks loose. The Russian mob, hackers, terrorists, gamers, bikers, spies, special forces . . . . think of something exciting or intriguing, and chances are Stephenson found a way to incorporate it into the story with elegance and insight. Stephenson's talent lies in his ability to pack a great deal of information into a plot that keeps moving, while also writing interesting, surprising characters. He favors intelligent, layered characters and generally makes sure at least a couple of brilliant, strong women are mainstays in his cast. I walked away from this book wanting to know these people and ask them about their experiences.
Hillgartner does a fantastic job reading the book. His regular speaking voice seems fitting for Richard, and the accents he uses for the other characters ring true. His pacing is great, his diction is clear and undistracting, and he manages to keep this very long book engaging and entertaining throughout. I plan to seek out other books he narrated for future diversions.

One Comment