Cryoburn by Lois McMaster Bujold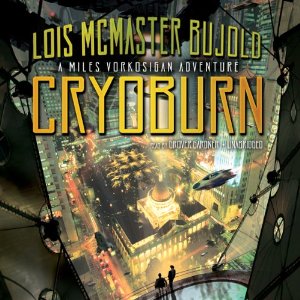 Cryoburn (A Miles Vorkosigan Adventure)

Available from Audible.com
Author: Lois McMaster Bujold

Reader: Grover Gardner
Short Review: A new Vorkosigan adventure, same fabulous reader. A fun romp with lots of old friends, and a few new ones.
Long Review: I really enjoyed this book, but I probably wouldn't recommend it to someone who has never read any of the rest of the Vorkosigan Saga
.
For those of you in the market for the latest and greatest adventures of Miles, you will likely be happy with this. I wouldn't say it is in the same category as the best of the series – but more like a really good reunion show where you get to see all your old favorite characters. I would list a parade of them here, but I don't want to give away who will show up. There are lots of fun cameos – you won't be disappointed on that front.
Grover Gardner does his usual amazing job reading. For me, the voice he uses to narrate the Vorkosigan books is my mental voice for Miles. Even when I re-read these favorites of mine, I hear Gardner's voice in my head. At least one or two of the best in the series would be on my desert island audio book list.
One interesting thing about this book in contrast with other Miles books is that only a third of the story is told from his point of view. One third is told by his armsman Roic and the final third told by a new character Jin – a young man who meets Miles and comes to his aid. There are a few other books in the series with other points of view, but this round robin gave Bujold a chance to show us more of how others see Miles, both a trusted member of his inner circle and someone who has no idea what he is up to.
There is also a final epilogue that is told in short snippets in a total of five other points of view. I can't tell you more than that without spoiling it, but I will say that this final section felt more like the more emotionally intense books from the middle of the series.
Will you like it? Probably. Bujold is such a fantastic story teller and Gardner is such a great reader that the two together deliver a really enjoyable package. If you are a passionate fan of the series, you might feel a little let down by the 'just another adventure on a planet far from home' feeling – but it is still worth a listen. Bujold manages to balance out some of the lighthearted caper feel with some more serious themes that I can't describe without wrecking them.
If you are still reading and wondering if you should start the series – I say YES without delay. I keep meaning to review them all here, but for now it is easier to tell you to just go start at the beginning with The Warrior's Apprentice.
You can listen to a sample online.

Cryoburn

One Comment