Eat, Pray, Love by Elizabeth Gilbert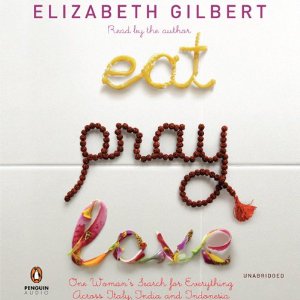 Eat, Pray, Love: One Woman's Search for Everything Across Italy, India and Indonesia

Available from Audible.com
Author: Elizabeth Gilbert

Reader: Elizabeth Gilbert
Short Review: Stunning memoir of a year in the life of a woman finding her way back to a life she wants to live. Beautifully read by the author. This one will stick with me for a long long time.
Long Review: Narrated by the author, this book carries you away with her on a very private journey of self discovery and healing. Not everyone should read their own books – Elizabeth Gilbert is one of that rare group who can both craft beautiful and expressive language while also bringing those words to life through their reading.
I don't listen to a lot of non-fiction, but I had heard so much about this book that when I spotted it at the library it caught my eye. I listened to the first third of the first disk that afternoon – right up until a scratch on the CD made me stop. It took a few months until I managed to get my hands on a fresh copy (this time as a download from the library), but those first 20 minutes never left me. There was no way I wasn't going to find a way to hear the rest of this story.
The basics are fairly well known. A woman has a life crisis and launches herself on a trip set for a year of personal exploration. She starts in Rome – eating her way through some of the richest food on the planet. Four months later she has gained back all the weight she had lost in her grief and become fluent in Italian. Next she travels to India to live, pray and meditate at a remote ashram for four months. Finally she travels to Bali in Indonesia for her final four months to find balance.
I have been lucky enough to travel a fair bit (I have been to both Rome and Bali, but never India) and Gilbert's descriptions of people and places and the journey itself brought back many of my favorite travel memories. It made me want to dig up the journals I wrote during that time in my life and wish I still managed to record thoughts in the same way. It made me want to check the prices on flights to Rome.
Gilbert shares all of the journey – from the details of what she felt at the very depth of her depression to the exultation she experienced eating the best pizza in the world, and everything in between. I don't know what it would have been like to hear someone other than Gilbert read these words. I loved hearing all the accents and rhythms of speech. I figure that she was there, so she is the best one to recreate it for us. I also can't imagine reading this on paper. So much of the flavor of the sounds she added in the recording with her voice would have been lost to me. By the end of the book, I felt like she was an old friend who had just finished telling me her best stories of her year abroad.
Is this a book you will enjoy? Well, it talks a lot about feelings and meditation and finding your way to joy. It does describe her travels to Italy, India and Indonesia – but it is much more of a memoir than a travel book. Have you suffered a broken heart? Have you wondered about meditation? Have you wished for a path to a more joyful existence? Have you ever fallen in love with a language just for the sake of trying something new? If so, I hope you enjoy it as much as I did.
Still not sure? There is an audio sample available online for your consideration.

4 Comments