Wild Decembers by Edna O'Brien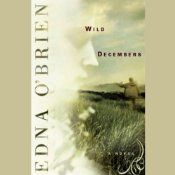 Author: Edna O'Brien
Reader: Suzanne Bertish
Short Review: A beautiful book, poorly served by bad audio quality and frequent mispronunciations.
Long Review: I'm a huge fan of O'Brien's work, so I was intrigued to find her fantastic novel on Audible's site. I was warned of the poor audio quality by other reviewers, but I decided to trudge on and see how I reacted to O'Brien's rich, poetic prose read aloud.
The audiobook was clearly dubbed from CD to a downloadable file. Some remnants of the CDs remain, such as a direction to change CDs. That I could easily ignore. The hiss, flattened tone, and slubs I can't. I know enough from hanging out in recording studios to know that someone could have corrected most of the audio problems in this version.
Even more irksome are the repeated mispronunciations of Irish words. I know that Irish is a difficult language to read and pronounce. Oh, how I know. But that's all the more reason that the reader and editor should have done their homework and made sure to get those words right. Cú Chulainn is as vital to Irish myth as is Odysseus to Greek, and his name just isn't that hard to say correctly. I could say the same thing of dozens of other words butchered in this audiobook.
Apart from the mispronunciations, Bertish is actually a very good reader, but I found them disconcerting and distracting. I also wondered why an English actress was chose to read such an Irish book. None of the characters who she voices would have her posh accent or diction.
The novel itself is masterful. O'Brien is one of the most important contemporary Irish novelists. Her prose is dense and poetic and beautiful. This exquisite book is set in a small rural town in the West, and it follows the progress of star-crossed lovers and neighbors whose generations' long feud rattles an entire community. It explores women's rights and station in 1970s Ireland, changing mores, farming, property rights, legal vagaries, and a hundred other things. I will read it again and again, but I'll stick to the voices in my own mind henceforth.