Winter's Bone by Daniel Woodrell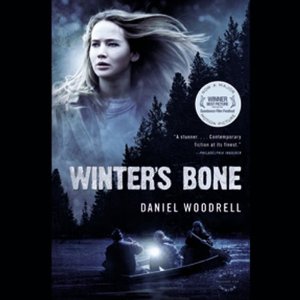 Winter's Bone
Author: Daniel Woodrell
Reader: Emma Galvin
Short Review: A stark, beautifully written and expertly read novel about an overburdened girl in dire straits.
Long Review: Set in the Ozarks, Winter's Bone follows Ree Dolly as she tries to locate her missing father, care for her broken family, and save their home. Ree, 16, is the oldest of three children, and her life seems to be made entirely of danger, neglect, and undue responsibility. The Dollys are part of a larger near-tribal community of outlaws bound by strict rules of secrecy, respect, and gender roles. Ree's one dream is to join the Army so she can escape, but she's too young to leave, and her father's disappearance leaves her family with only her to lead them.
Emma Galvin does an amazing job reading the book. As I've mentioned in the past, I find it extremely annoying when readers voice teenage girls with breathy, high-pitched, weak voices. The book follows Ree closely, so we have largely her voice throughout the audio book. Galvin's reading is spot on. Ree sounds strong, and smart, and desperate–exactly as she should. During the descriptive sections, Galvin's pacing and diction are excellent as she gives voice to Woodrell's sparse, dense prose. She is thoroughly believable and restrained. As the book progresses, we learn that Ree's relationship with Gail, her best friend, has grown beyond the bounds of friendship. Galvin's reading remains true, without any veering towards stereotypical butchness. She doesn't ask or answer any more questions than the author did.
Woodrell's style is often referred to as "country noir." I find that a lot of books set in the South or Appalachia are down-right condescending and inaccurate. I'm certainly no expert on the Ozarks, but I never got the sense that Woodrell used this imagined community for target practice. He shows their faults, but he shows strength as well. He stares right at their poverty, drug problems, feuds, and failures and relates those things without pity or judgment. His characters are engrossing and layered, and Woodrell never gives us too much. Often, I feel like he's leaving us wanting for information on purpose, knowing it will keep us entranced. Because of my own academic interests, I was particularly intrigued to know more about the roots of Ree's strange community–are they descended from Travellers, are they the remnants of a charismatic cult? We never know for sure, which is both annoying and brilliant.
As an aside, after listening to the book, I also watched the film adaptation of the story. It's been very well received by critics, and it has some real strengths. But, as is almost always the case with films made from movies I love, it was lacking. The filmmakers omitted Ree's sexuality entirely–as people are wont to do with stories like this. A son turns to a daughter, the mysterious origins of Ree's community are erased–but overall it's a very good movie.

One Comment