Dead Until Dark (Southern Vampire Mystery #1) by Charlaine Harris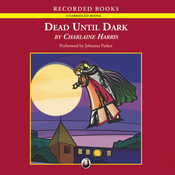 Dead Until Dark

Available from Audible.com
Author: Charlaine Harris

Reader: Johanna Parker
Short Review: Well read first installment of the Southern Vampire Mysteries series (better known now as the books that inspired HBO's TrueBlood series). Sookie Stackhouse is a telepathic waitress in a world in which vampires have "come out of the coffin", and her world is getting more dangerous with each passing the day.
Long Review: I first read Dead Until Dark on paper years ago. When the new HBO series TrueBlood came out, I watched. So this audio book was version 3 of this world for me. As is often the case when I have strong mental models of many of the characters, it took me a bit of settling in to adjust to Parker's voice. The good news is that this book is told entirely from Sookie's perspective, so a female voice with a southern accent really was the logical choice.
Dead Until Dark is a murder mystery set in the small southern town of Bon Temps, Louisiana. Sookie Stackhouse is a restaurant at a local bar. She also happens to be telepathic. As she moves into the world of vampires, her life gets more interesting – and more complicated. If you are looking for both romance and murder, this serves you both. In a lot of ways it is just shy of an old school gothic romance, but with Vampires and telepathy mixed in.
One of the things I love about all of Charlaine Harris's books is that she includes the everyday as part of her story. Her protagonists actually clean their homes and have to go by the library to get books. Harris weaves her story through the juxtaposition of these regular rhythms with the suspense associated with a murderer on the loose and the mysteriousness of the supernatural.
I am no expert on southern accents – so don't hate me if your more sensitive ear finds fault in Parker's rendition. I really enjoyed this audio book. The reader has enough variation in her voices for the various characters to make it easy to keep track of dialog. She also has a lovely default narrator's voice that rings true for Sookie's inner dialog.
If you are a TrueBlood fan, I think you can't go wrong with giving a listen to the story that started it all. Yes, there are some deviations between the HBO series and this book – but that is often the case with books brought to screen.
Sample audio available.

One Comment