Jessica's Guide to Dating on the Dark Side by Beth Fantaskey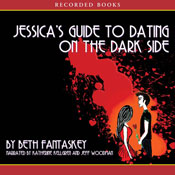 Jessica's Guide to Dating on the Dark Side

Available from Audible.com

Author: Beth Fantaskey

Readers: Katherine Kellgren & Jeff Woodman
Short Review: Fairly standard 'boy meets girl, boy turns out to be vampire' romance – but with a few twists you likely won't expect. A pair of excellent readers, endearing characters and a fresh take on Romanian vampires make this a very enjoyable story.
Long Review: Jessica was adopted from Romania as a baby by her parents who were there studying the reclusive vampire community. It turns out that she was also betrothed to a vampire prince as an infant. Fast forward 17 years and Lucius arrives in rural Lebanon County, Pennsylvania to meet his bride.
The next thing we know, Lucius is enrolled in the local public high school with Jessica and is trying to fit in among American teenagers. Lucius is tall, dark and handsome – enjoys fine literature and soon discovers basketball. Jessica is a super-rational mathlete who loves horses and is not confident about her beauty.
One of the nice things about this story is that we have two 17 year olds, not a seventeen year old and a 150 year old. There are major challenges ahead for Lucius and Jessica. This is a coming of age story for each of them as they move along their intertwined paths.
I appreciate the choice to use two readers – Kellgren for all the portions from Jessica's point of view and Woodman as the voice of Lucius's letters home. This story lurked in the back of my mind between listens. Yes, I had a notion of where it might end up – but I really didn't know how it was going to get there. There was something especially believable about this cast of characters (and yes, I know that sounds a bit silly when talking about vampires). Witty, thoughtful and fun. I hope you enjoy it as much as I did.