Dress Your Family in Corduroy and Denim by David Sedaris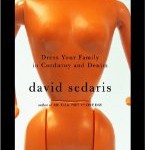 Dress Your Family in Corduroy and Denim
Author: David Sedaris
Reader: David Sedaris
Short review: One of Sedaris' best books of essays and stories, read tenderly and hilariously and scathingly by the author. Several pieces are live performances, and many of them are downright great.
Long review: I'm a fan of David Sedaris, and this book has a lot to do with that. This time around, he includes more stories about his family and growing up in North Carolina, including some really poignant pieces about his own weaknesses. "Repeat After Me" is particularly important to me, because Sedaris deals with his guilt and his family's anguish over being used as fodder for his work. Sedaris is generally funny, but he's also clearly a man who loves his family and isn't particularly comfortable with the way he exposes them to scrutiny by writing about them. I love that about him, in part because I'm always terrified that I'll hurt my family and friends in my own (nowhere near as successful) writing.
"Six to Eight Black Men" is a side-splittingly funny story about Dutch Christmas traditions. Sedaris' pieces about travel and other cultures always get me, but this one succeeds because of both how very ridiculous the traditions seem to Americans and the reaction of the live audience.
Sedaris' significantly-younger brother Paul is perhaps the star of this book. He features in two great stories: "Rooster at the Hitchin' Post," about Paul's wedding, and "Baby Einstein," about Paul's daughter's birth. The first is read in front of a live audience, which I particularly appreciate. Within the confines of the stories, the contrasting sexuality and temperaments of the two Sedaris brothers make for a wonderful dichotomy. Paul pokes at David's homosexuality (referring to him as "Big gay hoss") and David explains that his would-be macho brother is short and sloppy, with a higher voice than David's nasal high tenor. The portrayal could seem cruel in another writer's voice, but David Sedaris skewers himself right along with his little brother to keep things fair. But it all seems loving. Sedaris' constant turns from the sweetness of love and birth to the family's odd jokes about kids' names, sexuality, in-laws, and the like keep the pace moving quickly and allow the shock of his humor to build over and over again.

One Comment