Me Talk Pretty One Day by David Sedaris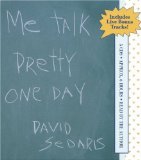 Me Talk Pretty One Day
Author: David Sedaris
Reader: David Sedaris
Short Review: Sedaris' funny, self-deprecating, heart-breaking stories about moving to France with his partner Hugh, learning French, his family, and his own flaws and experiences. The author reads his own work in his distinctive voice, never flinching as he excoriates himself either in front of a live audience or alone in a studio. Sedaris is an amazing, brave writer and reader. I've listened to this particular book three or four times, and I know I'll keep returning to it.
Long Review: I adore Sedaris' stories. I learned of his work listening to his pieces on NPR's This American Life. I've read several of his books on paper, but because I fell for this writer reading his own work, I truly prefer his audiobooks to their paper siblings.
There are a few real standouts in the book. My favorites are "Me Talk Pretty One Day," a description of his traumatic time in a French class taught by a heartless misanthrope; "Jesus Shaves," a recounting of his French class' strange discussion about how holidays are celebrated in their home countries; "A Shiner Like a Diamond," about his sister Amy's habit of transforming herself into strange characters and how it tortures their father; "The Youth in Asia," about the Sedaris family's relationship to their pets; and "I'll Eat What He's Wearing," about his father's strange views on food and frugality.
Some listeners may be put off by some of Sedaris' topics. He openly discusses some medical and dental issues that may gross out the delicate. He's gay and out, and there are some people who still take offense at that for whatever reason, though I doubt they'd settle on Sedaris' work for entertainment in the first place. And he openly discusses some very self-destructive drug use when he was a student. None of those things throw me, though. It's his honesty that makes me love Sedaris' work so much, and I have a deep-seated appreciation for people who describe their faults without hesitation.

One Comment