Eclipse by Stephenie Meyer (Twilight Saga, Book 3)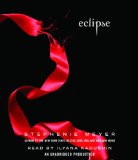 Eclipse (Twilight Saga, Book 3)
Author: Stephenie Meyer

Reader: Ilyana Kadushin and Matt Walters
Short Review: Meyer gets better with each book. With this book, she has found a good rhythm. The quieter bits of this story have a stronger voice than those in the first 2 books of the saga. Book 3 digs deeply into Bella's relationships and finally starts to ask the question of "Why?". We still get good action scenes (because there is always action in a world that has vampires and werewolves) – but we also see Bella make conscious choices with an eye to the consequences in her future.
Long Review:  Meyer delivers in her third book in the Twilight Saga. The story is well balanced between Bella's inner world and what she is experiencing day to day. Her fans get more Bella, Edward and Jacob – but they also get more of everything else that contributes to why they are each making the choices they are making as the story unfolds.
We learn more about various members of the Cullen family. This was important for me. I had been waiting to actually learn anything real about some of the more neglected members of the family – and a number of them got some significant time on stage.
We also learn a lot more about the werewolves. One of my very favorite parts was the portion told in the style of a tribal legend. Meyer got into an amazing rhythm in the telling  – and Kadushin really did it justice. I sat in my car to hear this story within a story to its end.  I just couldn't pull myself away in the middle.
Meyer sticks with Kadushin as the reader and though she is still not my favorite reader, just as I said in my review for New Moon, I have grown used to her style and now her voices for the characters are the voices of the characters in my head. I suspect it will be odd for me when I see the Twilight movie – all the voices will seem wrong!
In fact – my major critique of this audio book is to question why they added Matt Walters for the two very brief portions that he was given to read. He is the voice of Jacob – but only for one short bit at the start and another short bit at the end. After hearing Kadushin's 'Jacob Voice' throughout all the books in the saga to date, it was honestly jarring to hear this flat male voice who was supposed to be Jacob. It was like when they change the casting of a character in a TV series 3 seasons in and you are expected to just accept it and move on. I didn't like it – and I wonder what is waiting for me in Book 4 which I already know includes his name again in the credits.
Overall, I really enjoyed this. If you are a Twilight fan – no disappointments here. If you are new to the serires, I would recommend listening your way through the series – starting with Twilight and New Moon before moving on to Eclipse. They have even created a Twilight Saga CD Set that includes all 4 books.
Eclipse is also available through the Simply Audiobooks Rental Program.

5 Comments