Cat's Eye by Margaret Atwood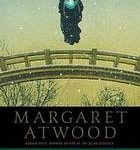 Cat's Eye
Author: Margaret Atwood
Reader: Barbara Caruso
Short Review: Atwood's Governor General's Award-winning bildungsroman about girls' cruelty to other girls, art, childhood, and memory; read crisply by Barbara Caruso. The book follows Elaine Risley, an artist, as she remembers her youth in Canada while preparing for a retrospective of her artwork. It is heartbreaking and beautiful, which makes it hard to listen to at times. Pain is perhaps more real when it's expressed out loud–this isn't a fun listen, but it's a very good one.
Long Review: I love this book, and it breaks my heart over and over again. I hate the concept of "chick lit," but I do believe there are certain books that speak so clearly of girls' and women's experiences that they are ours to read and know–this is one of those books. In a way, I worry about who reads it, because I don't want anyone to use this sharp, brilliant novel as proof of how evil girls are to other girls. Atwood deserves better, and girls and women deserve more credit than that.
Caruso was well-cast in this role. Her reading is never sappy, never self-pitying. She is a journalist reporting on her own youth and life, and she's as hard on herself as she is on Cordelia, her nemesis and friend. Elaine repeatedly points the failures of her own memory–as a young adult, she had forgotten about her friends' cruelty to her. As she ages different things trigger painful memories to resurface, and she is forced to realize that she tolerated intolerable things, and to wonder why.
The book is structured as a series of flashbacks, which is perhaps the only way to accurately portray the reflection on and reclamation of childhood memories by adults. The flashbacks are entwined in a story of Elaine's preparation for a retrospective gallery show of her art. Elaine as a child is fragile, confused, and off-kilter much of the time. As an adult, Elaine seems solid, organized, and confident in most things. She pieces her memories together with a thesis in mind, it seems, and has no trouble convincing us of her victimization and recovery. I find it particularly intriguing that Atwood and Caruso conspire to make us fall so totally for this character who isn't trying to elicit sympathy or demand justice. Elaine just states the truth of her memories and moves forward, interested in making sense of her experience without wallowing in it. We should all aspire to be such memoirists.

2 Comments