New Moon by Stephenie Meyer (Twilight Saga, Book 2)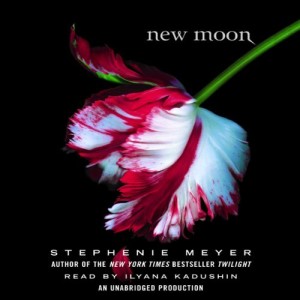 New Moon (Twilight Saga, Book 2)
Author: Stephenie Meyer
Reader: Ilyana Kadushin
Short Review: The good: a fresh and creative version of vampire and werewolf legends with characters you care about and great action scenes. The less good: lots and lots of Bella's internal angst-ridden dialogue (not that there is anything wrong with that, if you have a taste for that sort of thing).
Long Review: I liked this one a bit more than I liked Book 1 of this series (see my review of Twilight). Having listened to the first book, I knew all the key players and understood the rules of Meyer's vampires. While I suppose that New Moon could stand on its own, I would strongly recommend reading/listening to Book 1 first. In addition to vampires, we also get werewolves in this story. Just as she updated and made the vampire legends her own, Meyer tunes classic werewolf legends to suit her story and vision. I really enjoyed her choices.
New Moon is read by the same reader as Twilight, so if you have already listened to the first book – you will recognize the voices and the rhythm of her reading. Kadushin is still not my favorite reader, but I have grown used to her style and it did not interfere with my enjoyment of the book.
NOTE: I am very against spoilers and nothing I am about to tell you isn't something you wouldn't learn reading the one paragraph blurbs that are everywhere online. If you are the type of fan who has been avoiding reading those blurbs, stop reading this review and go listen to this story already – you know you will enjoy it!
New Moon picks up a few months after the events at the end of Twilight. Things happen and Edward leaves Bella. It is family friend Jacob Black who turns out to be the person Bella needs find her way back from a broken heart.
We spend a lot of time inside Bella's head this time around. Bella is not a happy girl for large parts of the story. I actually like the way Meyer develops what we know about Bella and her reactions to her situation. Aspects of Bella's behavior that bugged me early in the book were crucial to communicating  the magnitude of the train wreck that is Bella after Edward leaves. The author has somehow set to paper a credible journey through and recovery from depression. Even though this is a supernatural story – I think that a lot of people who have felt broken from loss will find a kindred spirit in Bella in this book.
That said, I think we could have lost some of Bella's internal dialogue without loosing our understanding of her pain. My favorite parts of this book were definitely the action scenes and any scene involving dialog outside of Bella's head! I am launching myself on the next book shortly and still feel as if Book 2 in the Twilight Saga is setting us up for something even bigger in Book 3 (hey.. don't tell me what waiting for me in the next book – you know I don't like spoilers!).
Can't wait for the Twilight movie coming out later this year? Listening to this book is a great way to keep the world in your head while you wait. Fans will not be disappointed.

6 Comments