Would YOU Want to Work for YOU? by Brenda Bence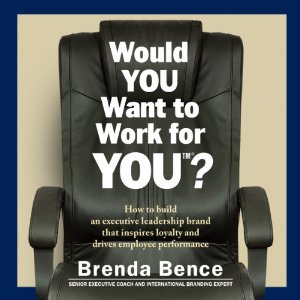 Would YOU Want to Work for YOU?: How to Build an Executive Leadership Brand That Inspires Loyalty and Drives Employee Performance
Author: Brenda Bence

Reader: Brenda Bence
Short Review: Would YOU Want to Work for YOU? How to build an executive leadership brand that inspires loyalty and drives employee performance is an audiobook that is short in length but big in information. Bence covers 15 behaviour sets to better lead others. You'll want more than one listen and a notepad to jot notes and diagrams.
Long Review: The book starts out in a lulling fashion, and I was originally concerned about Ms. Bence's soothing voice causing me distraction. I was so intent on listening "differently" to this non-fiction piece, that it wasn't until I reset my ears to her tone that I could focus. This well-spoken instructor said she would be posing me the hard questions and would be rough on my self-reflection; somehow, she pulls this off while remaining truly likeable the entire time.
Bence is intent on teaching you how to cross the "Leadership Threshold" by (in the quote by John Pepper) "Being Coachable". Encouraging the listener to put a mirror in front of their OWN behaviours and attitudes, Bence gives AHA moments of realization to the listener. Each subject is accompanied by an example of why it works and how best to use the process.
While the book is aimed at executives wanting to become The Executive, the tools in this book can easily be helpful for any businessperson, parent, or decent human being. You'll find yourself nodding along in agreement, grabbing paper to jot notes to yourself, and wanting a second listen. I have already suggested this book to two people who are new to supervisory roles and want to learn how to improve. At just over 4 hours, I don't see how anyone could afford NOT to listen to this book.
I look forward to reading more books by this author and her tips on Branding and Business.