Master the Brand Called YOU by Brenda Bence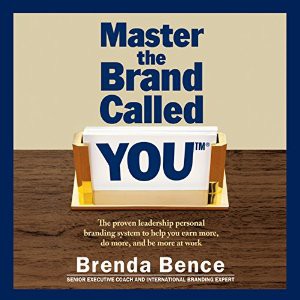 Master the Brand Called YOU; The proven leadership personal branding system to help you earn more, do more, and be more at work
Author: Brenda Bence
Reader: Brenda Bence
Short Review: Master the Brand Called You; The proven leadership branding system to help you earn more, do more, and be more at work is a step by step look at how to use proven marketing techniques to further your own business persona and career. A clear, understandable method to reflect on how you can improve your skills and project your most needed qualities at work.
Long Review:
Brenda Bence is an enthusiastic proponent for applying product brand marketing techniques, with her own twist, to be used by you in your own career. She lays out an easy to understand plan for developing your own Brand identity and carrying it through in detail. You will determine your target audience, your strengths, and what you will need to work on.
In addition to the thorough explanations along the way, Bence has made a template available online to follow along with the book, so the listener can log their personal goals while completing the book.
If you can wrap your head around the fact that marketing and psychology bear such great weight in our perception of daily life, you will adore this book and Bence's suggestions for gaining more control of your Brand. If you haven't given much previous thought to the aspects that go into marketing, this book is going to open up an entire new world to you. If you can begin to understand how you influence others, you can change the world.
Short book. Great presentation. Great Author. Highly recommended.