The Art of Asking: How I Learned to Stop Worrying and Let People Help by Amanda Palmer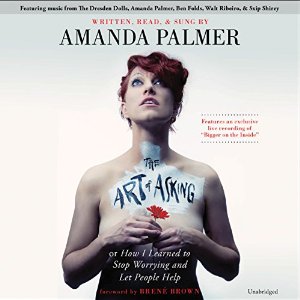 The Art of Asking: How I Learned to Stop Worrying and Let People Help
Author: Amanda Palmer

Reader: Amanda Palmer

Extras: Songs. In the book you get lyrics. In the audio book you get music. Also, the introduction read by Brené Brown and the afterword is read by Jamy Ian Swiss.
Short Review: Intense and personal treatise on art, music, creativity, community, connection, love, loss, and asking for (and accepting) help from others. Amanda's style of reading is intimate and confessional.
Long Review: Amanda Palmer wrote 'The Art of Asking' in a series of whirlwind weeks in Australia. She poured it out during what sound like intense ten hour days. To my eye it is three stories woven together. One story traces her path as an artist and musician. The second traces her journey in figuring out how to be in love. The third is about coming to terms with the threat of losing your mentor.
This is definitely a book I would recommend you listen to rather than read. Not all authors are meant to read their own books, but this book is perfect for it. You get to hear her emphasis, her emotions, and (of course) her music. She is right there with you telling you her secrets – her revelations – her wild ideas. And I love the voice she uses when recounting the words of her husband, Neil Gaiman. The Neil Gaiman fans among you will get some behind-the-scenes details of his life too.
I am so glad that there isn't any way for me to 'spoil' the story for you. It isn't that sort of book. I knew going in that parts of the book made some people cry. I was braced for it… but somehow her story snuck up on me anyway. Followed by a very sad song. All on the subway on the way to work. Thank goodness I had a tissue in my coat pocket. I tweeted what happened. Amanda replied to my tweet with a <3.
Don't worry, the book also made me laugh (which will also gets you strange looks on the subway) and dream and want to go home and make more art.
A lot of this book talks about community. About building and connecting with your community. It is as much about finding a community to give to as it is about asking for a community to help you. This book does talk about her wildly successful Kickstarter, but there is no silver bullet here about how to do the same. The real secret is the same one that my friend Fred knows (he and his partners over at Evil Hat have had a number of very successful game related Kickstarters): first spend ten years building and connecting with a community.
This book is more memoir than self-help book, but you might walk away from it with new ideas about how to approach your life. Do you consider yourself an artist or wish you did? Listen to this. Are you afraid to depend on others, even those you love? Listen to this. Are you a fan of Amanda's music? Listen to this.
Not sold yet? Amanda gave a TED talk in February of 2013 on 'The art of asking'. This book is a direct result of that talk and its resonance with people. Over six million people have watched it. It is less than 14 minutes long, and if you are on the fence about if this book is for you – go give it a listen. Either she will reel you in or she won't.
Assorted Disclaimers: I was a fan of Amanda Palmer before I listened to this book. I backed her Kickstarter. I attended a house party (the one in Ashburn that involved time in the closet where I read her a poem and gave her a mobile made of doll parts). I attended one of the book tour concerts and waited in line for my copy to be signed the day after the book came out. I attended the same small liberal arts university (though not at the same time). I asked for, and was given, a review copy of this audio book. I expect I was quite pre-disposed to like it. Feel free to take that into account as you decide if you think you will enjoy it based on my review above.