Mr. Mercedes by Stephen King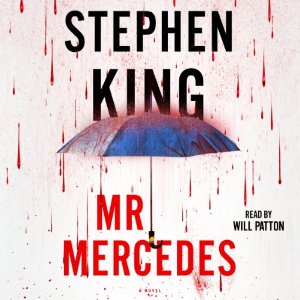 Author: Stephen King
Reader: Will Patton
Short Review: Engaging story that lets you into the minds of a very horrible person and his current target. Written and read with such realism that your stomach will twist, and you'll be tempted to cover your ears.
Long Review: Detective Bill Hodges retired with a couple open cases he can't forget about. The Mercedes Killer takes advantage of the fact that the Detective can't forget about the horrific events, and begins a correspondence with him. What is the motivation for the contact? What skills and connections can the detective use in his attempt to bring the killer to justice?  What ethical lines get crossed? And just how many more people will be in danger?
The listener is drawn in further and further, as is Detective Hodges. You want to stop listening because you don't want to believe that people can think these things and do these things– but, like driving by a car crash, you can't stop yourself from wanting to know more. Will Patton does a great job as reader, helping to flesh out the characters in your mind's eye. He does a particularly masterful job of sharing a written note in the book that must have diagrammed emphasis that could've been lost by another reader.
While the story gives some comfort in having small plot items that are predictable, Stephen King pulls no punches with gruesome details. It's as if he's setting you up to knock you down. This is not an audiobook to listen to with your small children in the car. The book encompasses gory death, sexual situations, and more uncomfortable, taboo subjects. It is not adding these elements for sensationalism, but rather for furtherance of the point of the book.
Bad people do some unfeeling, bad things, and we can only hope that there are more clever good guys than bad guys in this world.

One Comment