Skin Game (Dresden Files, Book 15) by Jim Butcher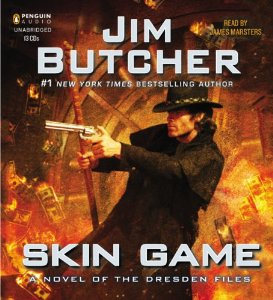 Author: Jim Butcher
Reader: James Marsters
Short Review: Skin Game is a continuation of the popular fantasy series about Harry Dresden, Chicago's only professional wizard. The series is best consumed in order, but the book contains some descriptions which could assist new Dresden readers in understanding basic series history. A very cleverly written series for adults who want to graduate from Harry Potter into something with more teeth. James Marsters reads this 15th book in the series, bringing all the characters to life.
Long Review: Warning: this Review contains spoilers for those who have not read up to and through Book 14, Cold Days.
If you haven't listened to any Dresden Files audiobooks, yet, Go Start. From the beginning. James Marsters has managed to give every one of hundreds of characters their own consistent voice, identity, and personality through his vocal interpretation. When I am reading the series with my eyes, I still hear Marsters' voice in my head.
Skin Game (Book 15) shows us a relatively healthy Harry in the beginning (PARKOUR!), who is seemingly only compromised by the fact that there's a parasite inside his head. Thank the stars and stones that he has Queen Mab of the Winter Court as his boss. She'll surely help him out, right? She just needs him to do one thing for her…
Always striving to Do the Right Thing, Dresden gets tangled up with old foes; The Denarians. Can he resist the temptation to chase off or smite his sworn enemies, as he must work alongside them? Or, will he deny the command of the Winter Queen and face her wrath, as the previous Winter Knight did? Which of his generous friends will he pull into the mix, and how much will he regret it this time? What is the "Storage Cubby of the Underworld"? Who could say, "Hello, lover" and make the listener's hair stand on end?
You'll laugh out loud. You'll get teary. You'll panic. We'll find a new Knight of the Cross. Butcher and Marsters knock this one out of the park. Again.
With so many secrets to peel away, I guarantee that you will want to listen or read this one a second time.
Want to hear more? "Hell's bells!" Download it today!