The Thirteenth Tale by Diane Setterfield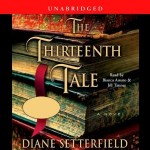 The Thirteenth Tale: A Novel
Available from Audible.com
Author: Diane Setterfield
Readers: Jill Tanner and Bianca Amato
Short Review: A gothic novel of intrigue about family history, fame, women, writing, truth, and secrets. It is read gorgeously by two readers who both have velvety, rich voices and lovely diction.
Long Review: The book opens in the voice of Margaret Lea, a bookseller and amateur biographer, who receives a letter from Vida Winter, a famous (fictional) English author. The pathologically secretive Winter asks Lea to write her biography. Lea has never read Winter's novels, so she borrows a copy of Winter's Thirteen Tales of Change and Desperation from her father and discovers that it is one story short of thirteen. Captivated by Winter's writing, Lea accepts the commission. As the story unfolds, Lea has to dig through fiction upon fiction to reach the truth of Winter's life story, but also to rehash and reminisce about her own family history. Throughout the novel, the role of speaker switches back and forth between Winter and Lea.
This book is right up my alley. I love the author's prose, both readers, the setting, the exploration of cultural mores and the roles of women, its bookishness, its pace. I think it's masterful. I've listened to it a couple of times now. The mystery of it isn't the thing for me anymore, of course. Now I'm looking at the architecture and trimmings, and I still love it.

One Comment